Step Stake Signs
You have probably seen a sign that says house for rent, with a big arrow on it. Or maybe even one that says Complete House PowerWashing for $99.00! Those signs are called Step Stake Signs, or Coroplast Signs. The basic size for these is 18" tall by 24" wide. They come with a metal wire stand that insterts into the Coroplast at the bottom and then the other end goes into the ground.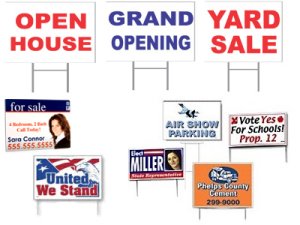 Discount prices for higher quantities.
Full Color 18" x 24" Starting at $20.00 When You Buy 10 or More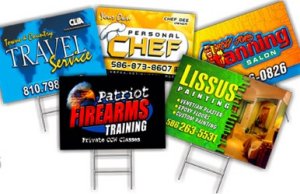 Magnetic Signs (Vehicle Magnets)
Magnetic signs are a cost effective way to have the option to advertise when you want, and still have some privacy when you dont want to advertise. Some neighborhoods dont allow advertising on vehicles, this is the perfect option for you as you are able to remove the advertisement from your car or truck before entering your neighborhood.
Standard 12" x 18" Magnetic Signs Starting at $35.00 each